Buyers in Dubai are not so shy
The Dubai International Boat Show (DIBS), in its 22nd year, was staged over five days in March. With a booming real-estate market and its recent win to host the 2020 World Expo trade convention, there is renewed evidence that the economy there is making positive tracks. SuperyachtNews.com spoke to those who attended the show to gauge if this boost has also had an impact on the Middle Eastern yachting market.
"It is the show that is in our back yard and we have been participating since the beginning," says Erwin Bamps, chief operating officer at Gulf Craft. "But one thing I can say, beyond the strong importance of the show for us, is that this year that there has been a noted growth of interest in boating and yachting in the Middle East. Although the attendance is slowly improving, we saw that there was more openness from clients looking at yachts. Whereas with the last two or three years they came looking but not buying and were wary of the salesmen, this year was completely different; the attitude has changed and people are more serious. We believe that DIBS is the key yachting event for the Middle East and therefore it represents what is happening in the market in a larger scope – so this is a good indicator of where the market is heading.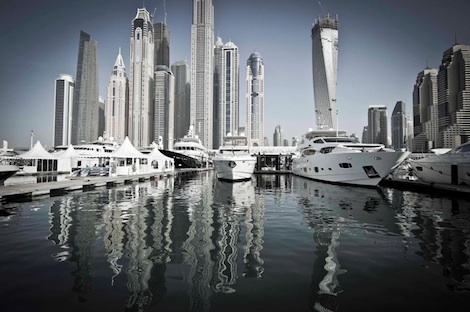 Credit: Dubai International Boat Show
And Bamps believes that this sign of growth has been influenced by the positive consumer confidence in the Gulf, and Dubai in particular. "Dubai has a growing economy," he explains, "it is well placed to enjoy the 2020 win – that is big for 2013, lot of infrastructure development, return of real estate growth, and with that you see more smiles in the streets of Dubai and that means there is more dispensable income available to spend." And Gulf Craft experienced this first hand as Bamps reveals that deals at the show were signed, but as a company policy they are not announcing it.
Sunseeker International, on the other hand, has been able to announce the sale of the second SS 155 48m superyacht at the show. "The boat is due to be delivered in summer 2013," confirms Sean Robertson, sales director and adds that he too feels positive about this year's show. "The show this year was the best that we have seen in terms of both local and International interest and visitors. We see this increasing in the future with Dubai being the stop over location for so many International destinations with such a diverse interest. The format of the show worked very well this year with opening hours from 3pm – 9pm, which meant that although hot it was comfortable for guests to walk around and enjoy the show."
---
"Whereas with the last two or three years they came looking but not buying and were wary of the salesmen, this year was completely different; the attitude has changed and people are more serious."
---
Trinity Yachts were also pleased with their presence at DIBS. "We came away with two really solid enquiries which is more than we have had in the last two or three years," reveals Billy Smith, vice president. "The overall mood of the show, from our perspective, was definitely more upbeat than it was last year and the year before. Clearly Dubai is not in a recession right now because they are so jubilant about securing the 2020 World Exhibition and the stock market last year went up about 103 per cent. You can tell by the hotel rates and the traffic that Dubai is doing well and I think because they are optimistic you are seeing that reflected in that they are starting to talk about boats." In reference to the two enquiries that Trinity Yachts received, Smith reveals that both were from the Middle East and in the 50m range.
When asked about the future potential of the region, however, Smith admits that there are limitations. "There has always been potential here but I think that it is a relatively small market," he explains. "It's a little tough to use your boat over there because there are only so many places you can go and there is really only 6six months a year that you can use the boat, so you have got to be prepared to take it to Europe. And for the people that don't take it to Europe, they are going to find that the boats are going to age a little bit quicker because of the harsh climate in the summer – it is brutal on the teak decks, paint jobs and air-conditioning systems."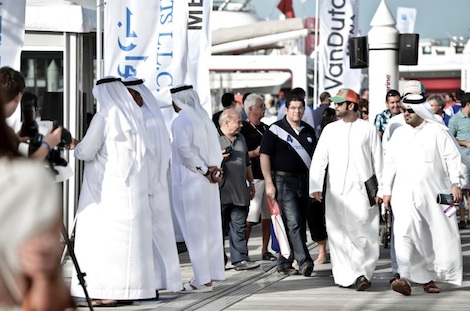 Credit: Dubai International Boat Show
But Sunreef Yachts are proactively putting faith in the future growth of the yachting market in the region. "We opened a new sales office in Dubai in Autumn 2013," says Francis Lapp, founder and CEO. "The company is now strongly exploring the Middle Eastern market by taking part in important events in the region as well as displaying our yachts in marinas. This year's edition of DIBS was, for Sunreef Yachts, a great success. We established many important relations during the five-day event and we are looking forward to new orders. The guests who visited our exhibition stand were particularly delighted by our projects including 90 Sunreef Power and the newest concept 210 Trimaran, so we are convinced that demand for larger units in the Middle East is increasing considerably every year."
"Yachting in Dubai is still in its infancy," adds Robertson, "but we have seen new destinations arriving. Dubai has a fantastic year-round climate with protected waters and the market certainly has an important part to play in the yachting market."
Reports also state that Bilgin Yachts Shipyard announced the sale of a 50m superyacht on day three of the show to an Egyptian national.
---
Source: 
http://www.superyachtnews.com/events/21090/dubai-international-boat-show-dibs-2014-review-.html