Riva launches first Mythos 122 superyacht
Riva, the iconic Italian brand that is part of the Ferretti Group, has just launched their first Mythos 122 superyacht, their biggest yacht to date.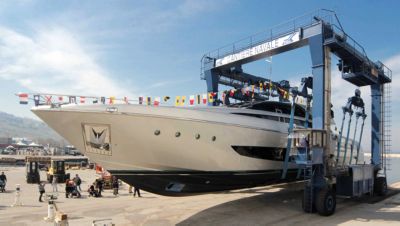 Photo of the launch of Riva superyacht Mythos 122.
The Riva 122 Mythos, the new flagship of the Ferretti Group brand, was officially launched at the CRN shipyard in Ancona last weekend. It marks a turning point in Riva's history, and is the largest yacht built in the 172-year history of the Italian brand, and the first entirely built in aluminium.
The new flagship is the outcome of the collaboration between yacht designers Mauro Micheli and Sergio Beretta, founders of Officina Italiana Design (the design firm that conceived the entire Riva range), and CRN's Technical and Interior Design Department for the development of the naval project and the interiors. The 122' Mythos is an evolution of the Riva 86' Domino, from which she has inherited many of her styling cues.
This first hull features the three-cabin optional version, while the standard version has four cabins. An additional optional layout with five cabins is also available.
The aluminium planing hull can reach a maximum speed of 27.5 knots and a cruising speed of 25 knots, thanks to two MTU 12V 4000 M93L, 3510hp engines. Following the technical launch, a few weeks will be devoted to the completion of onboard outfitting activities, particularly as regards décor solutions and interiors. Technical trials will then be carried out. The yacht is expected to be officially delivered to the owner in early May.
Source: http://www.boatinternational.com/2014/03/17/riva-launches-first-mythos-122-superyacht/