VBH's cinematic experience
Van Berge Henegouwen (VBH) has announced its collaboration with Auro Technologies and California Audio Technology (CAT) to deliver their latest their latest developments to on-board cinema systems.
Through their collaboration with Auro Technologies, VBH is launching Auro-3D in the superyacht sector, their latest technology in delivering three-dimensional sound. "Surround sound systems have been around for many years, but the developers at Belgium-based Auro Technologies have combined new digital recording techniques with innovations that deliver a substantially more realistic and immersive experience," VBH revealed in a statement. "Listeners will enjoy a much greater sound stage, depth of sound, accuracy, and a significantly larger listening area"
The installation of Auro-3D involves the fitting of speakers at three levels – lower (ear level), height (near the ceiling 30° above ear-level), and top (in the ceiling) – for a wrap-around effect. Here, VBH is working with CAT to offer speakers which can be made to match interior design requirements.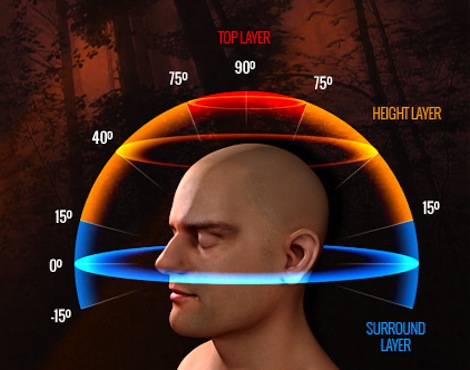 Credit: Auro Technologies
CAT speakers are custom made and can be built to any shape or size, and in any colour or material, allowing a yacht's interior design team to specify their appearance. The core components are all made from metal, enabling them to reach high power levels. The use of titanium and aluminium, as well as carbon fibre in certain areas, delivers increased strength, heat dissipation, accuracy, and power handling, while greatly reducing weight.
"By bringing together CAT speakers and Auro-3D technology, VBH can integrate, install and on site calibrate an audio/video experience that is simply unprecedented without the need to compromise on the elegance and style of the yacht," says Susanne Mensink, commercial director at VBH. "We continually evaluate and implement the latest technologies that are available to enhance the pleasure and comfort of yacht owners and their guests. This combination represents the pinnacle of sonic realism in an audio/video environment."
The latest advancements in AV and IT systems on board will be being discussed at SuperyachtDESIGN Week, being held 24-26 June at Design Centre Chelsea Harbour.
---
Source: http://www.superyachtnews.com/products/21278/van-berge-henegouwen-.html