Yacht (un)interrupted
Following six months of research, yacht technology service provider Azuz IT is offering its clients a solution to the common problem of email synchronisation on board superyachts.
Azuz IT's new solution, Yacht Mail, is particularly applicable to those using email services for business purposes, solves the problem whereby the sending and receiving of emails set up with a fixed IP address is disrupted as a result of the yacht's connection method automatically switching, for example between 35, fleet and VSAT. This can also cause problems when a user wishes to synchronise emails on multiple devices.
One way of sidetracking this problem, highlighted Azuz IT's managing director, Matthew Bingham, is the use of an inferior POP or IMAP email service, an path many yachts have chosen, however POP services rarely offer more complex email features as required in the business world.
"The email for yachts service removes the requirement for alternative connection methods like POP and IMAP and allows for correct implementation of Microsoft ActiveSync – regardless of the internet connection method used," explained Bingham, speaking exclusively to SuperyachtNews.com.
The benefits will affect both crew and owners, explained Bingham, resulting in huge time and cost savings for those on board. "Crew will spend less time resolving email issues, rebooting servers and sorting through inbox spam. This is a solid service that is implemented and can be forgotten about – allowing for time to be better spent elsewhere. Domain name protection and inbox delivery technology ensure your email domain cannot be stolen and emails are always delivered," added Bingham.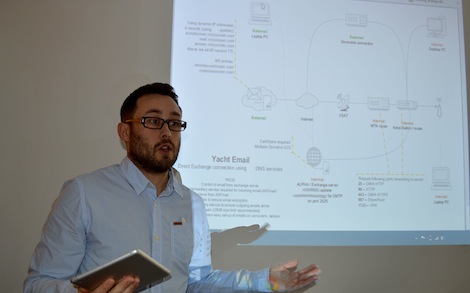 Managing director of Azuz IT, Matthew Bingham
The solution is already being used on board a number of superyachts, including Oceanco's 66m motoraycht Natita. "Before we started using Azuz email services we had resigned ourselves to resolving connection problems a few times every month. Since making the change to Azuz's new system we no longer have constant issues – everything synrchonises off and on board," said Roger Perkis, ETO on board Natita.
The internet is becoming an increasing part of daily life, not just for those on land but also those on board and at sea. Consequently, the provision of an uninterrupted email service has the potential to hugely impact the on-board experience for crew, owners and guests.
---
Source: http://www.superyachtnews.com/products/21106/high-speeds-for-high-flyers.html